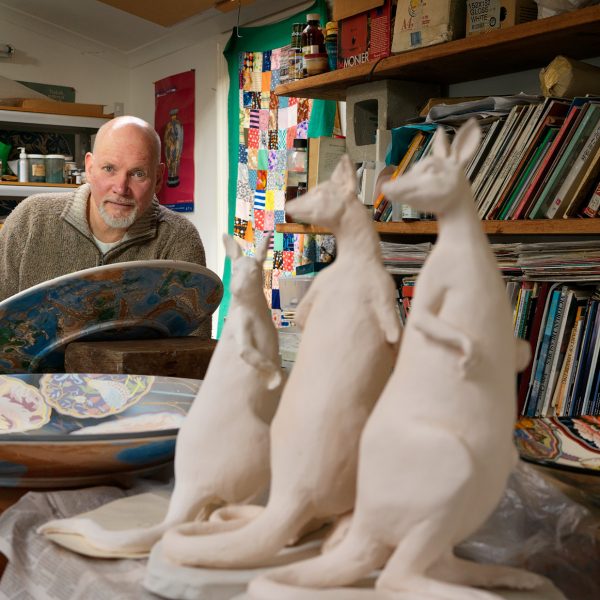 Stephen Bowers
'I make a type of pottery widely known as 'earthenware' with decoration covered by a clear glaze. This glaze, like the glaze often found on traditional Staffordshire and other earthenware, may across time develop a 'crazed' appearance, where the surface layer of glaze exhibits a series of fine cracks. Continuously developing across the years this is a natural characteristic of earthenware and is often looked for in antique pieces as indicators of their age and authenticity.
Over the years I have collaborated and worked with many Adelaide potters, including Stephanie Livesey, Philip Hart, Kirsten Coelho and, for sculptural objects, Andrew Stock. I most often work with Mark Heidenreich of Terravilla Pottery near the Central Markets. He makes pots – I decorate them. When painting pots, images are necessarily altered as they transpose onto curved 3D form, continually micro-adjusted as composition flows onto or wraps around the pot.'
Stephen Bowers was born in 1952 in Katoomba in the Blue Mountains. He lives and works in Norwood. His work is collected widely, including the Peabody Essex Museum, Salem USA, Kerry Stokes Collection, Perth WA, Brooklyn Museum of Art, Brooklyn USA, National Museum of Art Architecture and Design, Oslo Norway, Los Angeles County Museum of Modern Art, USA, Museum of International Ceramic Art, Denmark, Australian National Gallery, Canberra, Art Gallery of Queensland, National Museum of History, Taipei Taiwan, The Mitchell Library, Sydney NSW, etc. In 2014 he received a Churchill Fellowship to research blue and white ceramic collections in the USA, the UK, Denmark and the Netherlands. In 2018 he received the FSL George Lieschke Award for Service to Australiana Publications.