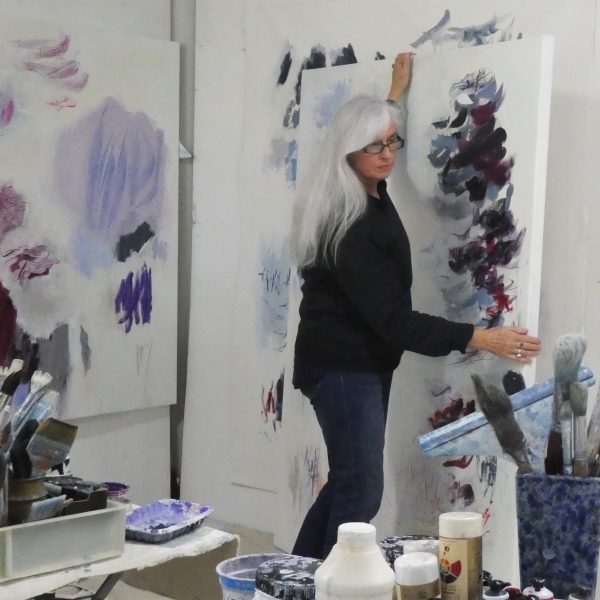 Wendy Stokes
Wendy Stokes has been exhibiting with the gallery since the mid 1980s and her practice continues to remain consistently committed to the tenets of gestural Abstraction, while sensitively and intelligently drawing from Eastern ideologies of immersive landscape experiences. Her work sits comfortably in this ambiguous space between abstraction and figuration, embracing and blending diverse geographies which hold meaningful experiences, often connected to gardens of childhood and the fluid coastal environs of adult life. Both carry narratives of loss and renewal and have become keystones in her practice.
Wendy lives on the East Coast of Australia; 'Walking and drawing within these spaces, becomes a lived embodiment of light, space and colour where one connects to the elusive qualities of memory; the figurative is rarely fixed and sensation resonates'. Paying homage to their origins, Wendy has also drawn on pivotal international residencies; Cite International des Arts, Paris which included a research experience in Monet's Garden, Giverny and a previous residency during Spring in the Hamptons, Long Island, New York; sacred ground of many legendary female abstract expressionists. 'I am interested in capturing the simplicity of structure and rhythms of such places; reducing the experience to raw mark suggestive of both the psychological and geographical essence of site; the works becoming spaces of intimacy, familiarity and nurture'.
Wendy has been awarded an MFA Research UNSW Art and Design; Graduate Diploma Visual Arts, Sydney College of the Arts, Sydney and undergraduate Visual Arts at Newcastle College of Advanced Education, Newcastle. Her work has been a finalist in The Glover Prize; EMSLA, The Fleurieu Water Prize, Country Energy Landscape Prize; Sunshine Coast Art Award; Fishers Ghost Award; Dobell Prize for Drawing and 3 time finalist and acquisition in The JADA prize. Collections include National Gallery of Australia; Art Gallery New South Wales; Warrnambool, Tamworth, Grafton, Bathurst, Gosford, Port Macquarie Glasshouse, Coffs Harbour Regional Galleries; Newcastle University; Charles Sturt University; Parliament House, Canberra and extensive corporate collections.