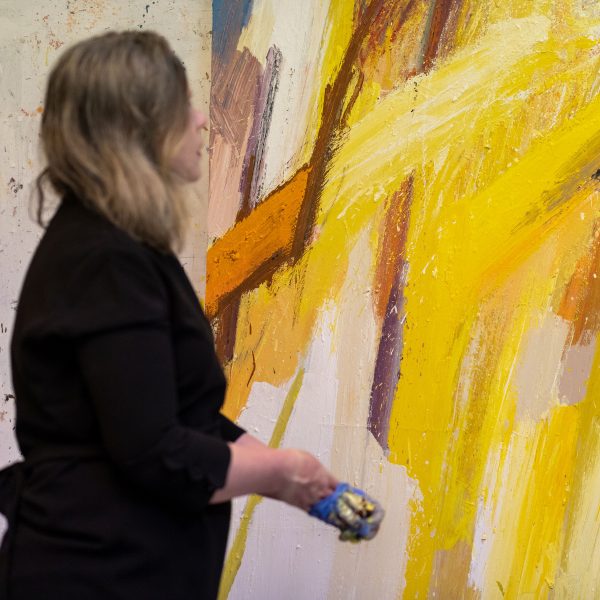 Fiona Halse
'My work seeks to convey a human presence and visceral essence. I am not interested in replicating objects; instead I seek to assemble visceral abstract forms that have been shaped in the unconscious and transferred into a material presence. Whilst I refer to the human figure metaphorically in my work, I am referring to memories that are connected to self and are projections of being and my work could be considered a personal ontology.
My work utilises a Tachist touch based process and this European 'Tache' (stain) process embraces an open structure and utilises tactility, touch to tease out form. Tachism is reliant on the body's visceral response to texture and matter and the relationship of touch and the hand. Tachism utilises Haptic, affective, sensory driven processes. The informality of Tachism enables what Heidegger refers to as 'Poiesis' where there is a 'bringing forth of forms' and these forms have their own unconscious personal significance and energy. This volcanic-like energy (embodied in matter and generated through a sensory process) requires orchestrated tension and structure to communicate and retain this energy. I consider this an architectonic process of building 'affective semiotic composition' that is related to drawing. Abstract forms embrace contradictions and multiplicity and are able to convey 'being' directly whilst enabling poetic interpretations.' Fiona Halse, artist.
Fiona Halse has been a practising artist for over twenty five years since graduating with a Bachelor of Arts in Fine Art at Monash University. She has been a sessional Visual Arts Lecturer for Latrobe University for over five years (masters and undergraduate). She had a sessional lecturing role at Deakin University and currently teaches visual art at Box Hill Institute. Fiona has been accepted into major art prizes such as Tidal 18 (Devonport Art Gallery), Fishers Ghost Art Prize, St Kevin's Art Show, Metro Art Award, Greenway Art Prize, MPRG National Works on Paper, Stanthorpe Art Prize and Prometheus Art Prize. She has been selected for a group show at The Painting Centre 'The Patterns of Influence' (NY, USA) and 'Abstraction 2018' (Melbourne, Australia) and 'Of Colour and Light, Women's Abstract Biennial' 2018, 2020 (Melbourne, Australia). Her work has been informed by arts residencies at Point B (New York) and Can Serrat International Arts Centre (Spain), Institut für Alles Mögliche (Berlin), Fellini Gallery art residency (Berlin) and learning opportunities at The New York Studio School's Drawing Marathon and Kathy Caraccio's studio (New York).